W

hy we are the best

The OJSC "Stroymekhanizatsia Trust n°2" conducts its 45 year history as one of the most powerful tower crane operating companies in the Ural region. Throughout the entire period the trust accumulated a huge potential in the field of the development of construction services. The company enjoys a stable economic situation and increases constantly its specialized equipment and skilled technicians.

However, even modern technology is not able to duly satisfy the security requirements, if not maintained and operated by qualified workers. For this reason the management of "Stroymekhanizatsia Trust n°2" gives great importance to the training of professional staff - tower crane drivers, installers, engineers and field engineers, backed by financial investment in a qualified training.
By choosing us you get:
Full range of services for the installation and uninterrupted exploitation of tower cranes.
Individual approach.
The most effective solution for the installation of tower cranes.
Special terms for regular customers.
Training and coaching of tower crane drivers.
The equipment is in perfect state.
Installation of tower cranes in 3 days.
Low-power consumption and high lifting speed tower cranes.
Daily monitoring of tower crane drivers work, in order to maximize the task.
Uninterrupted operation of our tower cranes allows organizing efficiently the construction while minimizing the costs.
Our company has proved itself as a reliable partner in the construction of a number of important sites of the city of Yekaterinburg and the Sverdlovsk region.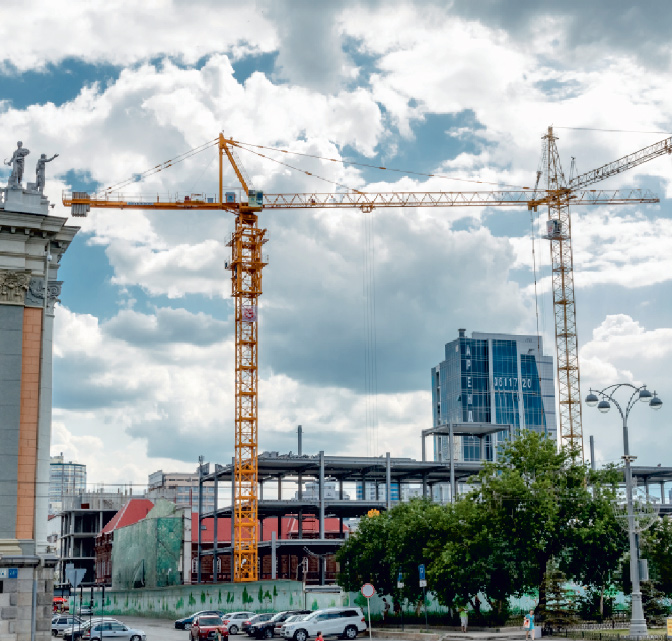 Reconstruction of the "Pasazh" SC